Bringing MORE security to MORE systems, networks, and devices together with unmatched expertise.

WHY LUMIFI & CASTRA?
Lumifi and Castra are forging a strategic partnership to leverage their collective expertise in NDR, EDR, and SIEM, aiming to provide businesses with an even more robust security solution. This collaboration capitalizes on Castra's in-depth knowledge of the Exabeam infrastructure, enhancing the threat detection capabilities of Lumifi's ShieldVision™ software for swift response to potential security threats.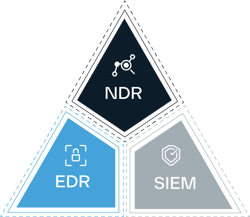 Gartner's SOC
Visibility Triad
The Gartner Visibility Triad places great importance on the seamless integration of SIEM, NDR, and EDR to achieve the highest level of security. Lumifi takes this to the next level by collaborating with industry frontrunners and offering tailored services in each domain, guaranteeing cutting-edge and all-encompassing security solutions.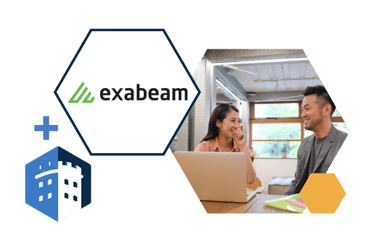 Elevating the Visibility Triad
Leveraging our partnership with Castra, recognized as one of the Top 250 MSSPs for 2023, Lumifi will amplify the capabilities of the Visibility Triad. By expanding our SIEM technology partnerships and harnessing Castra's expertise, along with its strategic alliances with providers like Exabeam, we are poised to deliver even more robust and innovative security solutions.

With the escalating threats across all areas of cybersecurity, many companies find themselves vulnerable. Partnering with Castra is a decisive step, leveraging our recent growth capital to realize our broader vision. Together, we're bridging the cybersecurity skills gap, ensuring businesses are fortified against the diverse and evolving threats of today. Michael Malone, CEO, Lumifi

We're thrilled to join forces with Castra. This collaboration strengthens our SIEM capabilities, offering our clients more choices and control in designing their security architectures. We remain committed to providing diverse technological options that guarantee unparalleled service quality, and the Castra acquisition exemplifies this commitment." David Norlin, CISO, Lumifi

I am excited about the immediate synergies between Lumifi and Castra. We are excited to bring honed Castra services to a much larger audience and scale. Grant Leonard, Co-Founder, Castra

Castra's journey has been about forging valuable collaborations. Our partnership with Lumifi allows companies to elevate their SIEM capabilities and adopt next-generation programs, enabling security leaders to enhance their infrastructure while aligning with their business objectives. Toni Simone, Co-founder, Castra
'